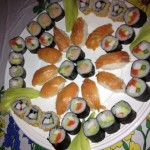 Everybody likes party…….. I love it here in Keys because there are some opportunities for me to meet new people, having communication with native language carriers and of course get many varieties of delicious food.
I had visited many American's party and I can note that mostly they were calling is potluck.
If you take a look to Wikipedia you'll find the determination – A potluck is a gathering of people where each person or group of people may contribute a dish of food prepared by the person or the group of people, to be shared among the group.
But it is very cute thing to get a potluck at any party. » Read more..