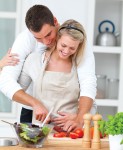 Nothing makes two loving people closer than a hobby. However, it is not so easy to find one.
A hobby is an extra space for communication. The main thing that it is really mutual and brings positive emotions. It is very important that both find the passion in it and complement each other and give the possibility to express themselves, but without prejudice to the relations.
Watching movies, meeting with friends of relatives, gatherings in cafes are boring. That's why suddenly you or your partner have an idea about doing something together. And then the events may develop in different ways.
So what can you do together?
» Read more..