Archive for 26 December, 2014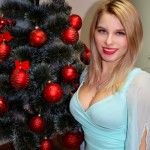 Winter is all around you, and beautiful snowflakes lye down on earth and houses. Everything seems to look so charming and dreamy. Don't you feel it? Its love coming up to you and filling in your heart! And who is the source of this deep feeling? Of course a beautiful lady form Step2Love who just once winked you at the camera in chat, and now you are ready to do everything for her! And do you know the first signs of love which everyone feels? » Read more..
Comments Off on Haven't You Noticed that You Are in Love?