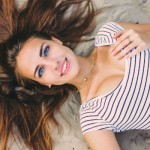 Do you know that November 28th is a very special day?
The fourth Thursday of November every year is a traditionally Day when we say what we are grateful for! It's a great tradition not only for Americans but also, for many people around the world. Why? Maybe because to be grateful and thankful for – is just a common thing which makes people feel better no matter what part of Planet they live at!
Traditionally, this day families unite around the festive table and pray to thank Lord of life, beautiful moments and experience. We share great mood, exchange little gifts and show our love to those who make our life better and brighter. Cause this is the way when it's very important to speak out loud! Thanksgiving is a Wonderful time when amazing season of holidays is marked to be started!
Although Thanksgiving is a time to be spend family, and generally the bigger the better, it can become very important day for couples also! Premier Dating Site Step2love joins the "relay race" of the holiday spirit and shares with you today some little traditions which could become very YOURS if you would decide to add a romantic hint to this Day. Also, you might find some of these traditions very philosophical and deep, which is great because their main goal – to unite YOU two as a couple! You know that most of perfect relations start on holidays? Well this is true!
» Read more..