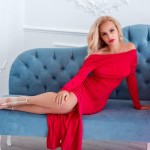 Could you name a country of two Christmas, two New Year Eves, thousands of midnight fireworks, one Koza, one Ded Moroz and one Snow Maiden? This unique place is Ukraine. And many of traditions which Ukrainians keep so warmly from a year to year are very special and worth to be shared. Therefore, international dating site Step2love will share some of them with you in this blog. If you still avoid the holiday cheer, you will surely get some till the end of reading.
So why two Christmas and two New Year Eves?
Ukraine follows both calendars: the Julian Calendar and Gregorian Calendar. This is the reason why Ukrainians celebrate New year Eve on December 31st and January 13th. By the way the second Holiday has a name of Old New Year or Malanky. It's usually followed with Vertep and Koza (Goat) performance which is absolutely unique and spectacular. You might be involved into huge celebrations if you visit Ukraine these days.
» Read more..