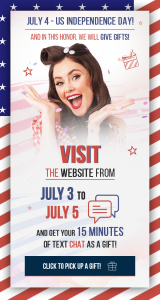 Being an international premier dating service Step2love.com follows the calendar of its customers' holidays. Every year we celebrate your special days and give you unique sales and promotions to greet you and show our love and care. From the Queen's Day in Amsterdam to Chinese New Year, from Dewali in India to Spring Bank Holiday in UK etc. Holidays bring us energy and unite people from all around the world. Many of our couples are internationally mixed and we love that so much! Love has no boundaries and it should unite cultures, mentalities and countries.
So, Step2love.com is proudly announcing that we prepared an amazing surprise for each of you to celebrate upcoming Independence Day of USA. Major percentage of our clients is from USA and we would like you to enjoy the celebrations to the fullest having a chance to find your soulmate with our help.
Independence Day is every year celebrated on July 4 and is often known as "the Fourth of July". It is the anniversary of the publication of the declaration of independence from Great Britain in 1776. Patriotic displays and family events are organized throughout the United States. Honestly, in Ukraine many restaurants and bars, shopping malls and entertaining centers are decorated also for celebration and join the global festive mood. You can easily find promos and discounts on the first days of July.

Premier dating site Step2love.com wants to join those promos also by providing a special Chat option: Free 10 minutes of chatting on the days from 3rd to 5th of July for every of our customers.
Means, you can freely go through our link, fill the fast registration (in case you are not our client yet) and use those 10 min of chat for talking to any single beauty from Ukraine or Russia. Thousands of single Slavic ladies are awaiting you online already NOW. And we want to give you a chance to start your conversation and romantic path with no risks. Online dating is an exciting process which can be the best of your life experiences if you are in the right place. And Step2love.com is the right one: safe, cozy, with high quality service and lots of profiles which are real and beautiful.
Go ahead! Join the celebration and cheers to those who seek for love around the world! Get your best dating experience with us, trying our chat and mail services, gift delivery and video options. Your love of life is closer than you might think.
Wishing you all the luck! Happy 4th of July 2019!
Much love from Step2love.com – ­­ your "puzzle pieces" connector online!