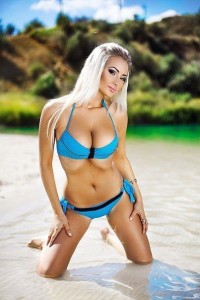 True beauty must be celebrated! This is one of the main reasons why the Victoria's Secret Fashion Show is so well known and adored by men and women around the world! Seductive, beautiful, sexy, open, posh, feminine, attracting models do the catwalk in their bikinis and well-fitted lingerie. Beauty as it is!
Joining the celebration of beauty premier dating site Step2love.com would like to announce an impressive contest Goddess of the Beach which will take part from July 26th to August 10th on its source. You are more than welcomed to join dating platform these days for free, log in and give your VOTE for the most seductive one! Tones of photos and galleries which will be shown up on Step2love these days will be opened for everyone to enjoy, to view and vote for! Your vote means a lot and if you ever thought about elections as about boring process – we are going to show you the different side of this medal!

Beauty is captivating and there is no man in the world who will reduce the Slavic one! Clients of our dating platform are amazing single women from Ukraine and Russia and wonderful single men from all around. The geography of online dating is world-wide: from USA to New Zeland, from Australia to Germany, from China to South Africa etc.
We celebrate love, beauty, strong relations and romance every day! And it's very easy to share this endless feast with you! Put a holiday into your heart together with Step2love! Find your love, make a friendship, start a family, build something serious, choose to be happy finally because you deserve this!!!
To make its easier for you to join our dating site and enjoy its perfect dating tools /such as online video chat, mail, private galleries and fast gift delivery/ we made registration free off charge and easy to be filled. So, the only thing you must do is to follow our link and join it NOW!
You will love our design /which, btw just been updated and now is easier to use/, you will be happy to see the high quality of our profiles and share our core values: trust, loyalty, friendship, support, care.
Well, you still have time to become our costumer right before the Contest "The Goddess of the Beach" and spend fun time following it and putting your vote in! No teasing anymore but just know that our singles look gorgeous and fabulous in their bikinis and on those photos full of sun, seaside vibes and summer. Obviously, it could become kind of vacation for you – a small trip to the summer place with help of our photo galleries of the Contest! Note, for that you even don't have to trip anywhere! Just turn on your computer or mobile phone – here we are!
Your vote counts! July 26th – August 10th !
Let the true beauty win the contest! Let the seductive mood spread all around!