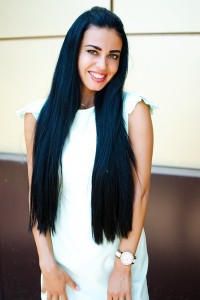 What if we say that one in five relations now start in Online? And this percentage raises up with a high speed! Now people find out the best way how to use their smartphones not just for shopping online and watching funny videos but also, for a DATING!
You remember those sweet times when people were easily starting a conversation while stuck in the line for pizza? Or those starring at each other's eyes across the crowded room with a someone at the bar – few moments and you are already chattering about movies or travels, planning on your first date or even your common kids! Lol. It was easy when we had less gadgets. Besides, you always knew the answer and reaction right away: no second chance in the most of times! Yes or No. And then only "they lived together happily ever after"

But things changed. Being caught by our phones and laptops so much we rarely look at people's eyes, but we often surf for them online! It makes our search of everything we need faster, easier, less stressful and relaxed. We have all time in the world! And the main: our love, our romantic affair could be here also, just in our app or dating site!
Premier Dating site Step2love.com is visited and loved by people from all around the world. Our customers are those who seek love, marriage, dating, dating exactly to a Slavic lady, travels together, partner, soulmate and beyond. We celebrate tones of happy romantic stories, receiving bright photos from trips, adventures, wedding days, anniversaries, baby showers etc. But all this somehow starts online. By two who are ready to use online dating as a powerful instrument for finding ROMANCE!
So here we have top five reasons why online search can become your choice!
1. You don't need to search just local. Now dating is global thing!
Means, that previously we were dating only people in our cities, towns and countryside areas. But now, using the online technology we could jump out of that tiny circle! Click search option on Step2love.com and you will see that you are able to choose girlfriend not only by specific features and metrics, but also by country of her living!
And yes, she could be Slavic lady and you live in USA, Europe, Australia, Canada … It's no matter anymore! Love world expands!
2. You can schedule your dates and save your time!
Sounds strange but let's face the truth: if you are busy with work, social life, hobbies etc. – you have very limited time for private life. Still, you want to be loved and to fall in love. Using your phone, you can log in to the dating app or dating site in exactly that time when you are ready to talk! Also, after few chats you can make an appointment for a certain time with a lady and even add it to the Google calendar! So, you won't miss it! Sounds fantastic and not so romantic? Well, time is the most valuable thing in the world! Online dating will save yours!
3. Choices! So many choices!
Create your first letter, download it to site panel in your profile, send it to few women you are interested. Don't think its something unfair! Again, back to saving of time – you never know who will reply to you. So, you should try few options! Don't put all eggs in the same basket (famous Ukrainian quote) You are single. And you deserve to have a choice. Many choices. To make one which will be the BEST!
4. Its online. It works. It can become REAL!
Every dating site and every dating app has thousands of proves and successful stories. People like to share them because it's important to spread the good news! Of course, you can also find lots of stigma still, but effect of Online dating grows, and one of six online relations on Step2love.com reach their real dating time. And one day it become a committed relationship.
5. Your age becomes just a number!
Some countries cultivate the stereotypes about ages and dating. You can be too young, too old, too-something-else and seems like time is never right for a date! However Online dating widen your opportunities and your views! You will figure out that in some Slavic countries women prefer men who are elder, sometimes even on few decades. Many countries including Ukraine and Russia, Poland and Czech Republic etc. have a different attitude to ages and quite often people from these countries create couples with age gap. This becomes popular around the world and now romantic story could just happened, not depending on some conditions. So, forget all the prejudices and jump into this Love whirlwind!
Choose your dating site, fill the registration form and start searching right now!
Online dating will help you to find exactly the type of person you are looking for!
Step2love.com welcomes you!