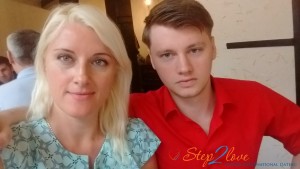 Let's face the truth: single motherhood is quite a common statistic nowadays. It gets us upsetting but many single mothers, who look strong, beautiful, amazing women – must raise their kids on their own. And sometimes, this become not so attractive to the single men who would rather have an easy dating with less responsibilities. So, the first thing you must think about if your eye was caught by a single mom – you must realize are you here for just playing and fooling around or you are looking for a TRUE story to happened between YOU TWO. And if you are serious – here are some tips which will make this way easier and clear many stereotypes for you.
At least, we highly recommend these tips to our customers on Step2love.com Premier dating site and to all of those who will join us soon. Because you will notice that big percentage of Slavic singles are women with inner and outer beauty, and, quite often are into single parenting. However, this shouldn't stop you from dating and even, inspire you to be braver and more confident in this question. So, the tips are!

1. There will be some schedule. And sometimes it will be not depending on you!
Well, you probably know that single mom is a just an average lady who's really interested in dating but sometimes, just has no time for that! Therefore, statistics confirms that majority of single mothers chose the online dating as the main dating instrument. This saves their time and gives them a chance to be a little bit more flexible with schedule of real meets. However, even if you set a date and she was agreed on day, time and place – it could be changed. Why? Kid's father changed his plans and can't stay with a kid now, nanny is got sick (or maybe she can't afford the nanny), kid is not in the mood and mom can't leave him etc. Many reasons. You should be patient. Because you have the serious intentions. Don't you?
2. Kid is her to priority.
And here we naturally come to the next point: she will think of her kid firstly. Always. Because men can come and go. And the baby stays her baby always. And this is the hardest thing to accept sometimes. You can try to push on her but instead, we recommend you accept that she is just great woman, who decide to trust you and she tries so much to show you her feelings. Just sometimes, she can't give you as much free time as you want. Value that time you have. This will encourage her to you!
3. No rush.
You will may wish to meet her kid asap. To try to show hew how great you deal with the kids (men know that women can't resist such things) but please, no rush. If she is not into introducing, you to her child – means that she is keeping care about him or her. Remember? Not all men are as serious as you are. And until she is surer about you, let her feel free to act as she feels to. She doesn't want her child to be hurt one more time. And this is normal that she doesn't rush. Accept this with respect.
4. You are not a "new daddy". You are man who are dating his mom.
This tip is very useful in cases when ex is still around. Some couples break up, but they are still stay great parents. They raise the kid together (by certain schedule) and feel ok to negotiate about free time of each of them. In such cases, kid is always glad when he sees his dad! And you must be ready for it! Your mission is not to replace the real dad but to become a great friend to a kid and a faithful lover to his mom. Don't get into some drama with clearing the roles. You already won this "game" if she introduced you to her kid and if you spend time together. You've got the most wonderful woman in the world! Value this!
5. Build the trust and give the time.
Your number one priority at any romantic relations is TRUST. Because relations based on trust – always last longer. If you date a single mother – means that her need in trust is even higher than other women. Therefore, you should take it slow, not rush into the marriage or living together right away and give it time.
6. Support her. Not just speak about support but show this.
Do you understand that your girlfriend is a superwoman? She is not just beautiful and smart, she is also a mom who is going through lots of problems every single day and needs sometimes you to listen to her, to support her and to show this support with actions. In Ukraine and Russia, the percentage of exes who doesn't pay child support is giant! Means, if you date a woman from one of these countries, she probably too busy with work in order to provide her child financially. And if you just say to her that you are proud of her, that you know how hard she works for her child, that you are here for her always and that you will bring her a cup of tea in the end of long day – this will be something! Sometimes, single mothers are so strong that even don't need any support from aside. Skip this stigma. No woman in the world who wouldn't be happy to give some power to her man's hands. If you can take care of your lady – do that. Always.
You build the relations together. This is hard sometimes. Especially, if you date online and you are from different countries, so your cultures are very diverse! You both use chatting and mailing for the first steps. And you both could be scared a little. But if you chose a woman with your heart – give this all a chance! Heart is always right.
May the "Single mom" be only coupling of words to you. Let this lady become your woman and feel more love than she ever did in her life.
Step2love.com – join premier dating site to fall in love