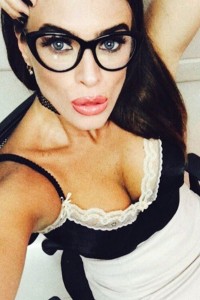 In order to maintain long-distance relationship, video chatting become a basic everyday routine for many couples from all around the world. This is an easy way to see and to feel close an important to you person, at least once a day. People who are connected by dating sties and dating apps chose this service more than others in order to get to know each other, share news, stay romantically tuned and keep the fire of relations.
Basically, clients of different dating services choose Video Chat for few main things:
"I like that I can use video chatting every time when my gf buys a new dress and wants to show it to me" (David, 37 yo)
"I met Maria from Kirovograd, Ukraine with help of video chat! When I firstly entered Step2love.com she sent me invite to chat and this was a great start for our love story. Soon I plan on tripping to Ukraine for 3rd time and spend time together" (Patrick, 43 yo)
"I didn't like video chat that much because I am the way too shy person. But somehow chat after chat I became more open and more smiling person. When I see my lady on camera, and she waves to me or sends the air-kisses I can't stop keep on smiling. What a lucky man I am to meet her on a dating site!!!" (George, 51 yo)
Premier dating site Step2love.com every day welcomes new members who join our dating platform. We are proud of our Video Chat service and glad that our customers prefer it even more than mailing. Video chat really open more options, and this usually helps people to start a fantastic communication just in few clicks! What are the rest of benefits of video chatting you may like?
Here are some of them:
Checking out who's real
Well, we can't hide that fact that Video Chat is, first, a perfect technology had really made us feel connected although we are far distance apart. But also, it gives us a chance to see who is real and who is behind the screen. Photos could create the way too beautiful picture in our heads and its always better to check with video chat. Of course, there is a possibility that woman you contacted to, doesn't have camera in her place, but more than 70% of single women – members of dating sites – have this option! So, you may enjoy their smiles, real view and get prove that they are REAL PEOPLE!
Less Scam
When you see a person on camera and the pictures on profile are matched with view – it's always a great way to see not just that person exists but also create less scam! Still, many dating sites do not use verification by video and so their content could consist lots of photos stolen from the Internet. Well, no one wants to be fooled. Therefore, majority of dating sites visitors choose Video Chat option for avoiding scam! Step2love.com uses the three-steps verification of each lady's profile and we are glad to provide you the safest dating!
Emotions connect us
There is nothing better than to see emotions of person you like. Sometimes, when relationships grow on distance, we feel lack of emotional warmth. Video chat is an amazing way to show how you feel and to see how your partner feels. You can smile together, tell each other silly stories, share sad news or just something what disturbs you. No mail in the world could do the same thing! Emotions always make us feel closer and build that special connection with people!
There are much more benefits and reason why you should choose the Video Chatting as your main tool for love search. But the most important – you can stay near being far away. And this is true magic of Video streaming! By the way, don't miss a chance to get video chatting to Slavic singles with discount while Halloween celebrations! Check out our link, view our ladies' profiles and see more news about chat, mails and special promos we provide for October 2019!
Welcome to see the Online Romantic Space of Step2love.com!