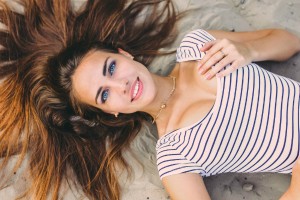 Do you know that November 28th is a very special day?
The fourth Thursday of November every year is a traditionally Day when we say what we are grateful for! It's a great tradition not only for Americans but also, for many people around the world. Why? Maybe because to be grateful and thankful for – is just a common thing which makes people feel better no matter what part of Planet they live at!
Traditionally, this day families unite around the festive table and pray to thank Lord of life, beautiful moments and experience. We share great mood, exchange little gifts and show our love to those who make our life better and brighter. Cause this is the way when it's very important to speak out loud! Thanksgiving is a Wonderful time when amazing season of holidays is marked to be started!
Although Thanksgiving is a time to be spend family, and generally the bigger the better, it can become very important day for couples also! Premier Dating Site Step2love joins the "relay race" of the holiday spirit and shares with you today some little traditions which could become very YOURS if you would decide to add a romantic hint to this Day. Also, you might find some of these traditions very philosophical and deep, which is great because their main goal – to unite YOU two as a couple! You know that most of perfect relations start on holidays? Well this is true!

So, your Thanksgiving list could contain:
1. Cook an early Thanksgiving Breakfast together
Don't be afraid of this first paragraph if you date ONLINE! Then, it can be even more fun! Set a time by your time zones. Create a menu which you both should follow. What about Pumpkin Toast? Or roasted turkey salad with seasonings? Set the time limits for cooking and serving and of course, decide the VIDEO-CHAT time when you both will be ready to sit on camera and show off each other what did you cook! Don't forget to serve the table with holiday napkins and décor. Create an ambience! If you can't set a video date through chat, create a video letter. To honor the Black Friday and Thanksgiving Step2love.com provides you Video Mails service (till December 1st) with 20% OFF!
2. Give each other something memorable
Couple like exchanging little gifts. Its normal and usually its very mutual. However, gift which is given on such a special day as Thanksgiving should be unique! Because this day has a special aura and so, this will be perfect if your surprise to your lady (and her surprise to you) will be followed with some deep meaning which you both understand. A small pendant with her name letter, a fluffy teddy bear to remind her that you like hugs, a tender rose, a box of her favorite chocolates with little card inside…. Your imagination this day should have no limits. Therefore, we suggest you click OUR GIFT SHOP and check what gifts are available there to send them these days with a SPECIAL OFFER 25% OFF!
3. Send a special pic or card
… To her or to her family! You know, dating online could be coupled with lack of communication in more intimate way. Texting and chatting becoming as natural as having breakfast. But sometimes it can be wonderful to create a special content just for your soulmate! Make a special photo, sign a card and make a snap of it, write by your hand a short note for her family…. And send this as attachment to her on chat for Thanksgiving!
Nov 29th – Dec 1st we give you chance to send all the private attachments in chat with 25% OFF! Try this option to become really close with each other!
4. Create memories
Do you know that creating memories together is the strongest tool for preventing falling apart one day? People who go through dating online, know well how not easy to keep the fire of interest and stay in touch! Therefore, creating unusual moments together – is fuel which will make you two feel warm even years after! When things are unusual –you remember them better! So, don't be shy to show how you feel! Write poem to her or ask her to sing with you on chat a karaoke! Find a kids' time photos of you and exchange them in letters (or ask your lady to download this photo to a PRIVATE GALLERY service on dating site Step2love so only you can see it! Now we have 50% OFF for viewing these galleries). Tell the story about your best Thanksgiving celebration or recipe of roasting the turkey! Work against the tendency of the human brain and try to do something new and different this Thanksgiving together! Because brain like all what is unusual and remembers it long!
Celebrating Thanksgiving together and enjoying the following after its Black Friday and Xmas holidays could become a very special threshold of your relations. A new level and a new era. All you need is just believe that such magical moments happened not that often and you must be very grateful for them!
Follow your heart and enjoy festive spirit with Step2love!