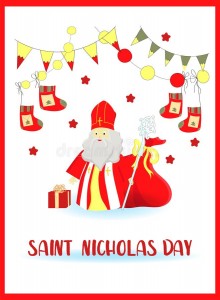 Winter holiday cheer is appearing in the air with a start of December. Every year adults and kids await this special season when the magic become reality and when all the dreams can come true! December is really filled with lots of magnificent moments and dates. One of them is the St. Nicholas Day which has a long history of celebration. Unlike the Western Christian world where it celebrated on December 6th, Ukraine and Russia welcome St. Nicholas Day on December 19th and there are plenty of traditions connected with this day!
Premier Dating Site Step2love wants to congratulate you with this Special Day in advance and wish you to keep always the spirit of childish immediacy in your heart! For increasing it, look here for our tips which are typically St. Nicholas:
1. Write a letter to St. Nicholas
You might be an adult and no more believe in magic and fairytales. But what we know for sure is that St. Nicholas used to be a patron saint of children. And their deepest desires quite often were fulfilled. So, don't hesitate and use the chance of trying the magic on your own! To make it more romantic: write letters with your beloved and exchange them with each othe. Maybe you can make some of these dreams come true? Maybe these are some secret desires?
2. Put a cute surprise under pillow
By a very old tradition of St. Nicholas day its necessary to hide a small surprise for your family members or beloved under their pillows. It's said that these gifts are brought by St. Nicholas personally and therefore they have a special sorcery! Dating platform Step2love always prepares a bunch of gifts' options for this day so you can order it easily online and send to the one you LOVE, CARE and THINK about! Become a St. Nicholas to someone very special! It's so easy.
3. Visit Family and invite friends!
St. Nicholas' Day is a time of happiness and great fun in Ukraine. On this day, people invite guests and have family time. Cooking dinner together or meeting for a brunch, going out to café all together, drink some tea with a carrot or an apple pie – all these activities will raise up your mood smoothly! Parents and grandparents tell their children stories from St. Nicholas life and teach them to be as kind, laborious, charitable, honest as he was. Ukrainians believe that in the night of December 19 all their sincere wishes will be heard and fulfilled. So, wish wisely!
4. Create a dream board for the upcoming holiday season!
Ukrainian ladies have a great tradition for St. Nicholas day: they often create dream boards for visualization the future! You can find on such dream boards photos with happy family, future boyfriend, travel pictures, house of dreams and kids, flowers and beautiful dresses etc. Women know how to dream BIG and how to make these dreams come true! Great hint for men: why doesn't you create such a dream board for you as well? Seeking for a Ukrainian girlfriend? Tired of being lonely? Just visualize your bright future and put it on your personal dream board!
And sure, give a chance to Step2love become your greatest dream board! It's a place where you dream, create space for love and romance, travel and see world, enjoy every moment of video chat feel safe! Let the St. Nicholas day this year be very special for you! So, you may find under your pillow what you are really looking for!
Welcome to the magic dating space!