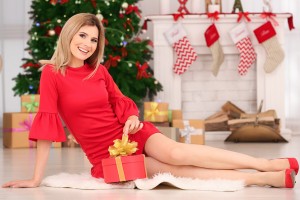 If you are foreigner, you might be surprised by knowing that Ukraine is one of those countries where celebration of Christmas is officially twice! This happened because Ukraine has both styles of celebration: Catholic on December 25th and Orthodox on January 7th.
Maybe it is the reason, why people who travel to Ukraine for winter vacation get extra bonus: nonstop holiday mood from December 19th (St. Nickolas Day) till the middle of January. So, no matter when you arrive to travel around Ukraine this winter – you will catch the Christmas vibes anyway! Here, from Western part of country with its Carpathians to Central Kiev and Kharkov with their spectacular churches and amazingly decorated street markets – everything looks so festive and cheer that you will love to come back to Ukraine for winter holidays repeatedly!
So, what to put to the travel list and what places better to see if you are in Ukraine?
International Dating Site Step2love shares with you TOP FOUR places which must be visited by you! Get yourself be ready for eternal joy and creating memorable time in Ukraine!
1. See the Christmas Tree Toy Factory in Kiev
The Klavdiyevaya Factory of Christmas decorations has a huge and strong history (founded in 1948). However, new hall for it in the central part of Kiev was opened just in 2019, this new place immediately become very popular spot for kids and their parents! A space where you go into the true magic, see how elves create the toys, how wizard world become closer and real and how Santa atmosphere becomes a part of you. Location: VDNH, the second pavilion made for Klavdiyevaya Factory
2. Visit authentic Ukrainian village Yaremche
Ukrainians say that you don't know nothing about real Christmas if you haven't celebrated it in Carpathians. One of the best locations to visit here is Yaremche and it has all you expect from Christmas celebration in Ukraine: the authentic festival of Kolyadky (carols), true hospitality in each Kolyba (restaurant) you might visit for trying traditional meals, people dressed up in customary outfits, lots of snow and spirit of fairytale.
3. Grab a mug of mulled wine in Lvov
Lvov is the heart of western Ukraine and traditionally many Ukrainians visit this city for winter holidays! We don't want to spoil your long weekend or even proper vacation here so just come! But what you must try is drinking some mulled wine at the city market right in front of Lvov Opera House. The spectacular ambience and live music, people in traditional clothes, kids who play games and snowball fights, and building of Opera by itself combined with lights and frosty air will make you feel in love with Ukraine deeply. Step2love has one of offices located in this city, and so you may come to Lvov and make this visit a romantic one as well: find your love among singles who seek their love online on our dating site!
4. End your trip in a true Castle of Kamianets Podilsky
Have you ever been to a true Castle? Like those which keep stories and secrets of the ancient times! To say the truth, a real Castle is a perfect Christmas place to visit! Ukraine's most famous fortress located in Kamianets Podilsky area. The fortress consists of eleven towers and is often included in the must-visit places lists in Ukraine. Of course, not just for the winter holidays but all year long! Luckily for tourists, Kamianets Podilsky castle usually works during winter holidays. So, you may add it to your must-visit list this winter!
You might like to know about more places and spots for travel around Ukraine and enjoying it to the fullest and we will be glad to help you with the right destination! Our site provides a DateMe service which helps with organizing your travels! Our offices locate all around Ukraine and we provide support at arranging your arrival, transfer providing and touring inside of country!
Imagine mixing all that with romantic holiday and finding the woman of your dreams!
Yes, this is your type of winter holidays! Welcome to Step2love! Welcome to Ukraine!