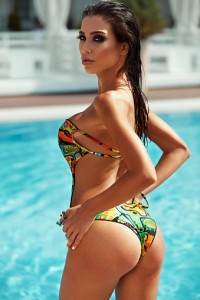 Did you know that Presently about 40% of the world's population lives within 100 kilometers of the coast? People who live by the seas, oceans, coasts are those have something in common. We call it "free spirit" and it's easy to feel it even while the first meet with a person like that.
Therefore, we would like to share with you more of unique facts about very special Odessa Women who are brough up by the sea and certainly have very special features. This only can explain why men from all around the world are so much fascinated by their charm and beauty. Have you ever met Odessa woman already? If no, that's your time to get to know her. Because the relationship with Odessa girl is a must-have experience for every mature man.
So, who is she: the Odessa lady? Why there are so many singles in this port-city? What historical facts impacted into the "bridal situation" of this sea-coast city?

The name Odessa is rooted in period when Greek colony Odessos was settled on this territory. As you can imagine this happened quite long time ago. However, the first building in the city was built on August 22, 1794 on Lanzheronovskaya street for Volkonsky. Counting the years, you can easily picture how old the city is and how huge its history! Mostly city is famous by its Port and of course, it was the transport artery of Europe.
Odessa was planned like a city which is "faced to sea" and it has many unique symbols among which not just gorgeous women but also, stone paving! Yes, is a real heritage of Odessa that solved the problem of impassable roads. Each stone was delivered directly from Naples from under Vesuvius. The sections laid out by those stones are still preserved on Pushkinskaya and Deribasovskaya streets.
Exactly down these streets there are many cafes and restaurants where its easy to meet single ladies who are in their love-search. However, if you are not offline-love-searcher, for you it will be more convenient to look for your Odessa woman on Premier Dating Site Step2love! Here are so many women from Odessa that it will be no problem to set a date with one or few of them.
Location that close to the sea causes few main features in Odessa women:
*Open mind
*Perfect sense of humor
*Love to travel
*Spontaneity
*High level of education and intelligence
*Great style
*Healthy and shiny skin and hair (sea impact!)
Remember that even a paving stone was brought to Odessa in its time on large ships? No wonder, that this was not the only thing brought to Odessa. Best clothes from overseas, beautiful jewelry, good food and tons of fresh fruits…and of course, sailors themselves! As ships must stay in a Port for a while, the mariners went out for a walk. Most of them were from Europe and America. Therefore, until now Odessa women are the quickest and easy about learning new languages – they have this flexible mind to study! Communication with foreigners impacted into their intelligence, culture code and, of course, their widen vision of life!
The highest percentage of singles who are ready to move abroad and get married there – live in Odessa! However, its not equal with an idea: every single lady in Odessa wants to escape from Ukraine. It's not true. But life by the sea, put an influence on the bridal situation in Odessa: women gladly chose men from Europe, USA, Australia and Canada as their husbands. And what's even more important – these women are perfect wives, future mothers and great partners to their men.
If this made your heart beats faster, maybe all you need to become a happier man – is just to find a girlfriend in Odessa!
Let dating platform Step2love help you to make this choice! Our beautiful single ladies are looking for serious relations and just few clicks are taking you away from them. Register now to fall in love with sea, Odessa and Odessa women!