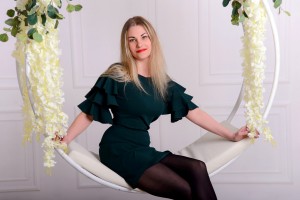 Today we want to show you one of our amazing ladies.


Nataliya is 38 years old, she lives in Nikopol with her one child. She works as a confectioner.
She is not looking for a perfect man, because every person has their strong and weak points. She is searching for an independent, mature man with a good sense of humor. She wants to spend the rest of my life with a loyal and faithful man. She likes an adventurous, open-minded, family-oriented man, who knows how to take care of his woman and his family.


About Nataliya:
"I am a very modest and traditional woman. I like making people around me happy. I enjoy every moment and every chance, given to me by destiny. I love flowers and nature. I do easily adapt to a new climate or environment. I am ready to move to another country if I meet a supportive and caring man to spend with him for the rest of my days. I am very loyal and honest, I hate lies and pretending. I am a very easy-going and romantic woman."


If you want to get closer to our beautiful Ukrainian woman sign up with Step2Love.