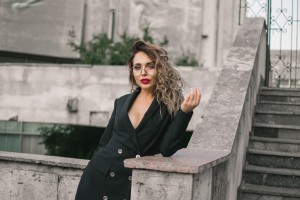 This week's beautiful Slavic lady to get to know is Ukrainian pretty woman Ekaterina from Kyiv!
Ekaterina is 24 years old single woman, who decided that she can find love on our dating website. She is living in her own apartment with a cat, and she would love to find someone to spend her life with.
Our female client is a successful make up and hairstylist, she also really likes to be active and go to the gym.
When we asked her what she wants to get from our website, this was her answers:
I am a Ukrainian lady who has a lot of energy and I need an experienced adult man who will help me to get maximum pleasure and teach me how to be a real woman.

She also says that she would do everything for her future man:
I like to obey to my man, giving him my affection, and the peak of pleasure.

When we asked about things she can not live without, she laughed and said she can't live without food:
I love to eat, fish, meat, vegetables, sushi
You can chat and try to build relationships with her here.