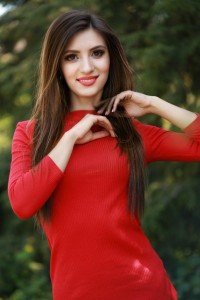 Women are amazing, aren't they? And if you are looking for the most incredible women to date, you need to try our dating site!
Nowadays women all over the world have different professions, and all of them are trying to do their best and have the best results for their work.
23-years old Marina from Vinnytsia is an Aviation Engineer! At her young age, she has a mind-blowing job, which takes a lot of courage to do and a lot of patience to study.
This is what Marina has to say about herself:
I have a happy personality, a very positive attitude towards people and life in general. I am a simple and easy-going person, truly open to new experiences and discoveries. On the other side, I am a very mature person. I have gained a good education in aviation, I earn my own living, I always take responsibility for my own decisions and my mother have taught me truly great, strong family and life values. I am very fond of nature, animals and have a dog. Love to cook especially desserts and cakes. I prefer to look feminine even in casual jeans and a t-shirt, I am fond of yoga, pilates, also do stretching and I love various directions in art. I love the seaside, love swimming, bike rides, sight-seeing, traveling. Being a romantic person I sometimes write poems. I think this can be just a small part of my interest and if you take me fishing, I will gladly join you! )) I will be happy if my man introduces me to something new. On my side, I will always be a great companion, a loving, gentle, sensual and loyal woman for you
You can find more amazing women on our dating website Step2Love.