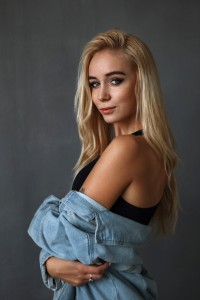 Name: Yuliya
From: Ukraine, Dnipro
Age: 20 years old
Star sign: Libra

Full profile
Hello everyone, it seems to me that I deserve the title "Girl of the Week" because I know exactly what I want from life, I'm interesting, I have excellent physical shape, I have attractive facial features, my man will never be bored with me.
I have a hobby, I really love my body, so I try to eat the right food and do physical activity. Three times a week I go to the gym. I can back up my words with my photo, you can see this right now.

I really want a family, for me a happy family, this is a beloved husband, smiling children, a delicious dinner, and a pleasant atmosphere in the house. In my head, I already painted the family of my dreams and I hope, that together with you we can realize my idea.
My biggest fear is to stop trusting people. In my life I have been burned and deceived more than once, but still I continue to believe in the sincere feelings of people and their good intentions.
If you ask me what makes me happy every day, I will answer without delay, this is an opportunity to wake up, look at the rising sun, feel the light blow of the wind, feel the wet grass under my feet, a smile on the faces of children, the opportunity to look at the endless, blue sky and feel love for myself and others.


My favorite subject at school was biology. I have always shown great interest in all living things, of which the human and animal body consists, what sequence of gene transfer from one individual to another. Chemical formulas and psychological observation analysis aimed at studying the behavior of animals.
I have a thing in my life that I would very much like to get rid of, that is to be independent of circumstances. First of all, I would like to change my thinking and vision, regarding this or that situation and free myself from possible emerging problems.
I have 5 things in my life that I do to feel happy. The first thing is to eat proper and healthy food, wash with cold water, look at this world through the prism of acquired knowledge, feelings of joy, and goodness. To sing with the notes of my soul, to give people my love through singing. To help constantly, if there is a need and a need, it does not matter to whom and when, if someone needs my help, I will always come to his aid.


On this I want to end my presentation, I hope in my words, you will find the response of your soul and write to me. Thank you for your attention.
You can get to know Yulia better on our website.