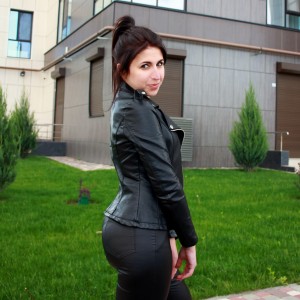 Name: Marina
From: Dnipro, Kherson
Age: 32 years old
Star sign: Capricorn
View Full Profile
1) Do you have a hobby? If you do, tell us more about it!

My hobby is photography. I really like photographing portraits of people in the Nude genre. Faces of people give special emotions: sadness, seriousness, positive, passion… And the bodies of people are all beautiful individually and in the process of shooting, both the model and the photographer are very liberated. This is a special art that inspires me!
2) Do you think you can find love through dating sites?
Yes, I think I can find my love on this site because out of a hundred men, the opportunity is exactly that … who, looking at me will understand … that he was looking for me. I believe in love, but also afraid to make a mistake. However, who does not risk… He cannot be really happy!

3) What do you value most in life?
Most of all in life, I value freedom of action. I believe that life is one and you need to live as your heart commands and in accordance with your wishes. Freedom to work, freedom in a hobby, and freedom in love … which I seek. There should be no limits or restrictions … because they prevent one from enjoying life.
4) What is a happy family for you?
A happy family for me is a combination of very strong passion and love, trust between a man and a woman, children's laughter, common traditions, and common goals, and dreams…
5) What is the ideal relationship for you?
My ideal relationship is 100% honesty and trust between me and my partner. I have to trust him 100% and am ready to entrust my life to him. It is also 100% freedom and coherence in bed …. passion and a look that mutually drives one crazy. Dependence on each other, but also freedom … so that each of the partners do not feel in a cage, but feels free, but happy.


6) What are your favorite movies or TV shows?
I really love romantic films and serials where there are erotic scenes .. but that it was beautiful and very passionate …. I really appreciate the quality video series and the good work of the videographer. I also like watching films with intrigue and an unknown ending … I am excited by intrigue and expectation…
7) What is the gift of your dreams?
A gift of my dreams is a person who will read my thoughts and desires in my eyes, a person looking at which I will feel that it is I who is his dream and he is going crazy with my visual touch. This gift of my dreams… I want to receive it as soon as possible!
8) What makes you happy every day?
I make me happy every day))) I love the world around, I love people, my hobbies, I love delicious food … I like my work and most of all I like to meet the sunrises and sunsets on the coast… Which I observe quite often. And this is the moment I feel happy