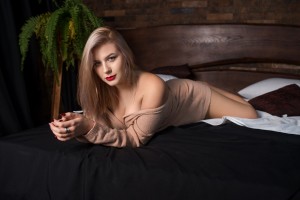 Welcome to our weekly post, where we get to know about our beautiful Slavic brides of our dating site! This week we will know more about our new female client 19-years old Anna!

Anna is still a student. but she could be a model in the future, cause she is 180cm tall, it is rare for Ukrainian women to have this height, but it makes our client unique.
That's what Anna says about herself:
I have a very big and warm heart with a place for you! I am a girl who wants to be loved. I will be a real opening to you my honey as when you know me you can understand that nothing can compare to the ocean of passion and tenderness inside of me!

It seems like she also can be a philosopher because she is quite smart for her age:
I don't want to spend my life on sadness because I'm a really optimistic girl. I am looking for harmony, care, mutual understanding! I want to bless my man by passionate kisses from the morning till night! I can promise all the time we will spend together will be diverse!

And she is looking for a key to true love, which she thinks is happiness:
I appreciate some charisma and a sense of humor. I want to find true feelings. I am looking for a kind, attentive and open-minded man who believes in family and traditional values. He knows what he wants and not be afraid of your desires. All I want is just real human happiness!