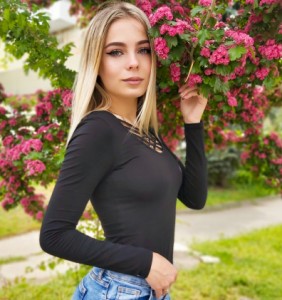 Name: Elizaveta
City: Cherkassy
Age: 18
Job: Make up Artist
ID: 368985
This week let's get to know closer this amazing young lady Elizaveta!
Elizaveta is young and a little wild and she is looking for a man on our dating site who will take her and make her his one and the only!
That's what she says about herself:
I can describe myself as an angel with fire eyes!! I can be a sweet cake for you, which is just covered with cream and put the cherry on top. I think we can surprise each other all the time. But I want to do it in a good way. I may be unpredictable, but you will always be pleased with me. I am a good girl.

She is looking for kindness, honesty, openness.
I clearly imagine the man I need: a kind, smart, honest and open person. I want to laugh with him, I want to share with him what is bothering me. I need a man with whom I will conquer new peaks and open new horizons. Nothing prevents us from meeting here and starting our love story. I believe that such a man is in this world, perhaps on this site. Do you believe that your soul mate can be found on the Internet? Let's get acquainted and check it out if you like me.

Get to know her more here.