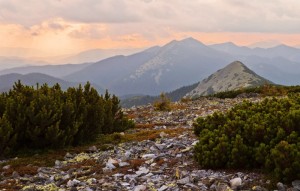 Gorgany is a mountain range in the Ukrainian Carpathians, located in Ivano-Frankivsk and partly in Zakarpattia regions. It stretches for 80 kilometers, width is about 40 kilometers. Gorgans have a specific landscape: not very high mountains (on average 1400-1500 meters), but with significant height differences. The peaks here have steep slopes covered with stone placers – gorgans.
You do not confuse these mountains with others, because the colored stones make them very unusual and for some a favorite. But remember that such a relief needs attention and good shoes, because the stones are careless, can easily move down especially small ones. Also keep in mind that in the rain or thick fog, the Gorgan "space rock" becomes very slippery, so be careful if you are caught in the rain on the mountain. And if the forecast is not very good, it is better to postpone the hike, of course, if you are not a specialist who wants to test yourself.
And I want to mention the steep Gorgan forests. Here are common fir-beech-spruce forests, which rise to a height of 850-1000 meters.
Find an amazing lady to travel to this marvelous place