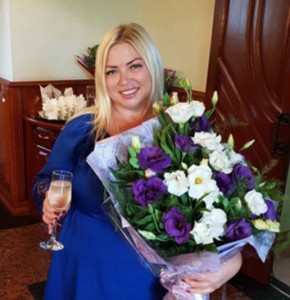 Name: Galina
From: Zaporozhye, Ukraine
Age: 50 years old
Star sign: Libra
View Full Profile
1. You have a dream? If you do, tell us more about it!
Yes, I have a dream, even two matches! Dream to conquer the sky jumping out of a parachute.
When I was 15 years I woke up with this dream! I hope this year I will be able to implement it and I'm sure this whole world will alert. And the second dream is to create your video blog about cooking and a YouTube channel where I will be able to share their recipes.
2. Do you have any Hobbies? If you do, tell us more about it!

My Hobbies are singing, my hobby cooking. I love to experiment with food. Since childhood, I tried baking something to cook. And at the age of five years, I sculpted the cakes from clay.
My parents always joked with me that I can become a great cook. Chef I did not, but my work has always been associated with the cooks.
3. Why did you decide to use a Dating site?

In my life, I have worked very hard, met on the street as it is not accepted, and I decided to turn to experience it to the relevant platform. I was advised on this website a friend who met his beloved man here and left her. She's happy! I also want to find happiness!
4. Do you think you can find love using online dating sites?

I am more than confident that I will find love, meet a man with which will be nice to Wake up next to in the morning, a man who will be with me on one wave and breathing with him in unison. I feel that he is somewhere nearby… and need a bit of patience and I see his eyes and understand that waiting is not in vain!
5. Name 3 countries that you would like to visit. And why?

I want to visit these countries. France, Norway, and Cuba. Why?? At a very young age fell in love with Paris. And I think it is not lived a life that the man who walked around the streets of Paris, sat on the edge of trolling in Norway and didn't drink real Cuban rum in Cuba!


6. Where do you see yourself in 5 years?

In five years I see myself there beside me, which country doesn't matter.It is important that this beloved man with whom me feel comfortable and cozy.
7. What do you value most in life?

In life, I appreciate honesty and loyalty. It is the most essential thing for a person who wants to be near me! In turn, I appreciate honest and sincere people… and in response, I have been completely open and honest.
8. That for you a happy family?

A happy family is joint Lunches and dinners. This Hiking hands with a loved one. This is when there is an opportunity to plan future events that are coming. A happy family is happy all around.


9. What is the ideal relationship for you?

A perfect relationship does not happen. This is not true. In every family, there are some nuances. But I am deeply convinced that as long as four hands hold the sand together, it certainly will not leak. So it is with ideal relationships. Trust and love love and trust. And all will be well.
10. Is there anything you would like to change in your life?

In my life, I would like to change myself! Your attitude to yourself. Listen more to your heart, not what people say. I want to change my perception of someone else's opinion … and understand
See more of Galina here on Step2Love.