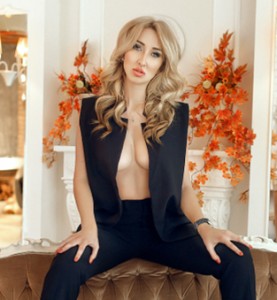 Name: Darya
From: Dnipro, Ukraine
Age: 31 years old
Star sign: Cancer
Dear readers, this blog was something new for me to do, as it is not easy to open your soul for people whom you probably don't know but I tried to be as sincere as possible. Hope you will appreciate it!!!
I have a dream. I have a dream where my time is my own, and I owe it to no one else. I have a dream where I can wake up when my body is ready, go to sleep when I'm tired, and never again live by schedules other than my own. I have a dream where I can be who I really am: an investor, artist, philosopher, friend, daughter, loving woman, partner, fitness enthusiast, and would-be philanthropist. I want to make the world a better place. I want to read and learn and become a smarter person every single day.


What makes me happy?
Being consciously aware of what you're thankful for can actually change your level of happiness. When you wake up each morning, spend time recalling all the things for which you feel grateful. Start with simple things: Do you have a roof over your head? Enough to eat?
Do you spend time each day laughing? Do you purposefully find something to laugh about?
When you laugh, you release a happy hormone called oxytocin. It's a hormone that uplifts us as we share experiences with others. Even just making yourself smile will put you in a better place.


Happy people don't spend large amounts of time alone. By spending time with people you like, you forge supportive relationships that help you in times of stress.
You also bond with others through common experiences, such as life's ups and downs. They become your support network.
People who don't spend as much time with family or friends are more prone to loneliness and depression.
When you take time out for exercise, you're doing your body good in more ways than one.
Avoid Regrets. We all make mistakes in life–that's part of the human condition. But with a little forethought, you can try to avoid making big mistakes.
My biggest fear… mmm well – There are many but big ones right now: 1. Being rejected when it comes to love. Fear stops me from even taking the first step to asking someone out on a date. 2. Starting my own business. I fear that I will not have what it takes to do it, that I will be a failure.


Why did I decide to find a partner on a dating site?
It's more convenient and efficient. I could spend an entire night out just to try to meet and have a conversation with a handful of people, and I'll have to first determine if they're available and looking to date, much less if we're at all interested in each other. Or I could spend an hour on a dating site and view a dozen profiles of people who I know are available and looking to date.
What is my dream gift? I think I don't have any, but my close people will never die, but I know it's impossible, so I can't name anything in particular, I used to get everything by myself, without any donations.