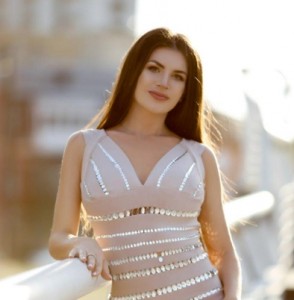 Name: Taisiya
From: Kharkov, Ukraine
Age: 31 years old
Star sign: Libra
View Full Profile
1. Do you have a dream? If you do, tell us more about it!
I dream of simple pleasures with my man: to look in his eyes and see his love and warmth, to feel his strong embraces when
I feel blue, to be able to talk about everything in the world with him, I want to get lost in his love and feelings.
2. Do you have a hobby? If you do, tell us more about it!
In my free time, I go to the gym to keep fit, healthy, and to remain beautiful for my future husband. I also like to experiment a lot in the kitchen) Cakes are my passion. I try different recipes and test them on my close friends and relatives) Hope you will appreciate my little cookery art as well)


3. Why did you decide to use a dating site?
It was my mother who suggested me to look for a husband from another country. Her school friend was registered in a marriage agency and had relationships with a man she had got acquainted with online. They communicated a lot and visited each other several times until she moved to him. Now they have been living together for more than 6 years and have two wonderful children. It's a great example of relationships I believe I will be able to create with the help of this site.
7. What do you value the most in life?
I don't search for a perfect person. Money for me is not in the first place, I am looking for someone with whom I can establish a mind and soul connection, the man I can fully trust, and who will make me happy. I know that we all have our fights, conflicts, and doubts. But I value honesty and openness most of all.
8. What is a happy family to you?
Like any woman, I dream of a happy family and bellowed husband who will put a smile on my face and hold my hands tenderly when I am upset, who will want to protect me from the whole world and who will care for me.


9. What are the perfect relationships for you?
For me, real love is more than beautiful flowers and sweet words, more than candlelight dinners or romantic walks in the park. Real love is understanding through the difficult times, caring past the disagreements. It's laughing together when things are good or laughing together to keep from crying when things couldn't seem to go more wrong. Real love shows compassion and compromise.
19. Do you have a job? Do you like it?
I work as a manager. I help model agencies to find models. My work gives me the possibility to live in a world of beauty, it brings me lots of meetings with new people, organizing the conferences, and make many choices. It helped me to become more confident and determined, that's why I like it a lot and have a desire to continue working in this field.