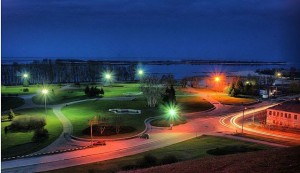 The park is a monument of landscape gardening art of local importance "Valley of Roses" is a small park near the city center on the banks of the Dnieper. Next to the park is the memorial complex Hill of Fame.
The park got its name because there were a lot of these flowers in the park before. Now there are few roses left, but Rose Valley is a great place for a picnic on the grass, playing sports, or just walking. There are several artificial mini-lakes with fountains inside, mostly low trees and neatly trimmed bushes. Large trees grow in a strip from the side of the Dnieper. A particularly beautiful view of the "Valley of Roses" comes from the nearby Castle Hill. Along the narrow winding alleys, strewn with small pebbles, on both sides, there are large comfortable benches that serve as a resting place. It should be noted that during the celebration of certain celebrations, "Rose Valley" is always in the center of events.


The peculiarities of the park include a huge bronze sundial, in the form of a bird, 15 meters in diameter. They were installed in 2012. A large crane acts as an hour hand, and instead of numbers – twelve chairs as an allusion to the legendary novel by Ilf and Petrov.
The park is one of the favorite places of recreation for the townspeople. In recent years, it has been used for citywide celebrations and festivals. There is a popular city beach next to the park.
Find a lady from Cherkasy here.