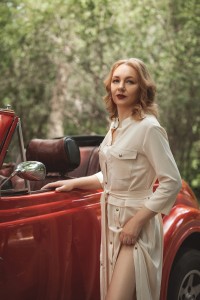 Name: Anna
City: Odessa
Age: 47
ID: 330936
This week let's get to know closer this amazing mature lady Anna !
That's what this amazing woman has to say about herself:
I'm a sincere, cheerful, sociable woman with a light character and a great sense of humor. I am very romantic and like to dream of looking at the starry sky. By the way, I still believe in Santa and in miracles (but it is a big secret). At the same time, I firmly stand on my feet and know exactly what I want. I respect other people's opinions and all disputes solved by compromise. I enjoy life and appreciate every new day. So that you do not get sick from such a big amount of sweet, I'll add a spoon of tar to this barrel of honey. As well as at all people, I too have disadvantages. One of them, it's very difficult to regain my trust. I quickly forgive a person and forget all the bad things that he did to me, but I cannot begin to trust this person again.

She is also passionate about her hobbies:
I like to do a lot of things but most of all I like to read and listen to music. Books allow me to travel through time and different worlds without leaving my room and music help me to dream and to relax. The choice of music depends on my mood, but usually, I prefer or rock ballads or hot Latina rhythms. I am very curious and I love getting to know new countries and cultures. In the past, I loved to go to concerts and to ride a bike, but now I have no one to share this passion with. Now I dream to learn to dance the tango and rumba.
Get to know this lady more here!