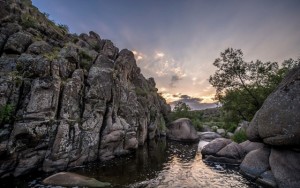 Trikraty is a real tourist "highlight" of the Mykolaiv region. You can get here by bus from Nikolaev or Voznesensk.

The village is located in the Voznesensky district, near the river with a slightly gloomy name, Mertvovod. A small and, at first glance, unremarkable village of Trikraty is located very nearby. But this is only at first glance. In fact, the Trikratsky forest and the Skarzhinsky manor deserve the closest attention here. Both of them are quite popular and visited tourist sites with a rich history and a special charm that encourages tourists to come back here again and again.


The so-called "green tourism" is one of the recreational areas that has recently been gaining more and more popularity. And, if we talk about the village of Trikraty, the Mykolaiv region, like a treasure chest, is full of interesting places. Noteworthy are 3 small rivers with strange names Arbuzinka, Soplinka, and the above-mentioned Mertovod river. Equally impressive are the majestic, monumental canyons, as well as the abundance of flora and fauna.
Meet ladies from Mykolaiv and travel with them!