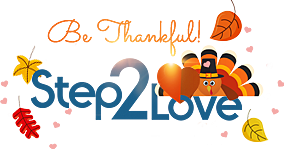 Dear Member!
Before your mind is occupied with the traditional Thanksgiving celebration, we wanted to send a quick message to let you know how much we appreciate having you as our member!
Many changes have taken place this year, and it made everyone realized that the most valuable to us is our health and the health of our loved ones!
Even if we are miles apart we are wishing you to stay healthy and safe! May your home be filled with laughter, happiness, and love!
Our team has really enjoyed serving you this year, and we wanted to share our heartfelt appreciation. Thank you so much for staying with us!
Wishing you a happy Thanksgiving!
Your Step2Love Team