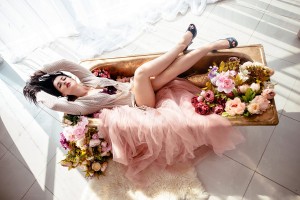 Many men find it very difficult to choose a present for a lady on any holiday, especially on International Women's Day. Step2Love offers several options for what to give a lady so that she feels satisfied.
One of the sweetest holidays of the year is, of course, March 8th. On this day, it is customary to congratulate and give gifts to all women, thus making it clear that without them the world would be incomplete. If you have a problem with choosing a present for a lady, then in this selection we have collected several options that may help you with choosing a gift.
1. A gift for the mood
Every weekday we are faced with stress, at such moments, it seems that the world is hostile and we rush home, where all the surrounding objects create the very atmosphere that helps us to forget the problems we faced during the day.
Gift shop options: Flowers, Sweets, Toys.
2. Gift for beauty purposes
If you want to make a universal gift for a lady that will always be useful, then think about the options that the beauty industry offers. After all, any girl or woman always wants to look their best.
Gift shop options: Certificates, MakeUp, Gift Cards, Perfumes, Professional Photoshoot.

3. A useful gift
You can choose something that will be with your lady for a long time, like clothes or you can choose something for her health/education!
Gift shop options: Gym Membership, Lessons, Courses, Clothes, Lingerie.

4. A special gift
If you want to guess for sure and please the lady, then it is best to think about a gift that will come in handy in any case.
Gift shop options: Jewelry.

See more in our Gift shop and choose something that only you know will be the best for your lady!