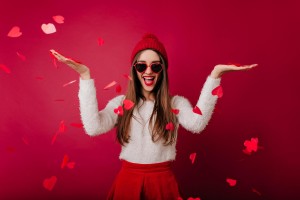 Valentine's Day is celebrated on February 14, even by those who are not particularly in love. This holiday is full of romantic atmosphere, I want to give and, of course, receive gifts.
There are many options for celebrating Valentine's Day. A classic is a romantic dinner at home or using video chat if you are far from each other. However, it is interesting if you are celebrating Valentine's Day for the first time with your partner.
Does your partner love humor and appreciate this quality in you? Arrange a fun challenge for her. For example, share your funniest photos and whoever laughs first loses. A good mood is guaranteed!
Almost all girls love sweets, even those who refuse them – just many are on strict diets. Gift your loved one a set of treats
Organize a photoshoot for your loved one. An even bigger surprise for the girl will be the services of a professional makeup artist and hairdresser. Any girl will appreciate such a surprise.
Last but not the least, try to have a movie night on the video chat, you can watch the same movie and discuss it even if you are miles away