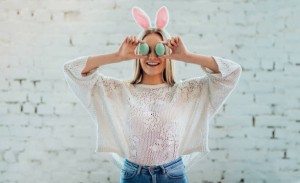 The brightest and the most sacred holiday will come soon to us! This Sunday all Orthodox Christians will celebrate it. You can congratulate your lady and make a special surprise for her.
We are ready to help you and we prepared a special gift list for you to choose from. Easter gifts include a 20% discount.
–Traditional Easter Basket includes the most traditional items for celebrating Easter (bottle of red wine, traditional Ester cake, etc)
– Easter Food Delivery. This item is presented in two sizes, big and small. It gives an opportunity to the lady to order the food from any store she likes.
–Easter Charity Basket. This basket girl can keep it for herself or she can send it to her relatives as a gift.
–Fruit Easter Basket. This very festive and nice basket will make her mood. Seasonal fruits and chocolate bunny are included.
–Bunny Hop Easter Basket. You can treat your beloved with so a nice surprise. It includes Easter cake, Easter bunny, and chocolate.
–Double BunnyEaster Basket. Double pleasure and double care for your lady! It includes two toys Easter bunny, 2 Easter cakes, chocolate, etc.
–Easter Shopping Card. The awesome gift card allows your lady to have an amazing festive dinner!
You can look for all the details of every Easter gift in the gifts list. Follow this link please