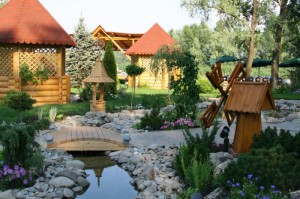 We invite you to take part in the captivating trip into the world of the Ukrainian coloring and folklore – we invite you to hotel & restaurant complex "KHUTOR". Our complex can be called with right museum where every exhibit tells for sure and with humor about the way of life, preferences and tasts of our glorious forefathers.
As for the hotel – it is small, but very comfortable hotel with 19 rooms, including four-room apartment with a river view, located on the third floor of the main building. The two-storey wooden cottages, that situated on the banks of the river. There is everything for a pleasant stay. The interior is made entirely of natural log home with luxurious elements of design decisions that have particularly attracted to visiting guests.
In the shade of thick trees, away from the city you will find a fairy tale called the restaurant "Koliba". It is winter restaurant with it's area of 300 square meters, that decorated in the national Ukrainian style with these household items, everything that took place in the home of Ukraine only just some 100-200 years ago. Waiters, as expected, dressed in national costumes. Girls, that called hutoryanochki in Ukrainian embroidered shirts and colorful wreaths with colorful ribbons, lads-browed Cossacks – in shirts and trousers, these are renowned for their true Ukrainian hospitality and cordiality. 
If you want to get off daily vanity and to feel something new you should find time to visit our khutor sauna. Professional sauna attendant-masseur is to your disposal. Real steam, big round bathtub with massage jets or small rain from bucket and finally nice massage – it is true relaxation. It will give you nice feeling of physical and sacred cleanness…
This is the unique form to communicate with Ukrainian national history and culture. KHUTOR takes position of one of the most picturesque places of Dnipropetrosk-city for long time. Comfortable pavilions and hotel rooms and two-level wooden cottages are placed in a nice place at the shore of Dnipro river.
Where else but right here traveler-foreigner tries Ukrainian cuisine, and not in the gift option, but a genuine, historically correct?! It is a gorgeous bouquet of delicious cooking, living music, Ukrainian history and additional human relations. You will discover unknown pages of Ukrainian gastronomy and its diversity will surprise you. You will find such traditional Ukrainian food as borshch with buns, aromatic sausages mix, varenik with poppy-seed and honey and cherry, reach wine & champagne cards of the world best producers.