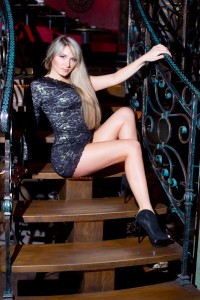 Elena
Ukraine, Nikolaev
Age: 28 years old
Star sign: Taurus
Photo Album: 9 photo
1. Why have you decided to search for love online?
We live in time of Internet and high technology. People stop to get acquainted on the street…live communication became more rare than virtual, so I decided to try online dating site to search for love. Internet has no borders the same as love, so I hope my Mr. Right is waiting for me somewhere in World Wide Web.
2. What is the difference between Ukrainian men and foreigners for you?
I grew up on Disney cartoons. Image of Prince in there is always associated with foreigners. I do not know why;) And our men I always compare to Ivan who is sitting on furnace and does noting. So I hope to find my Prince, because Ivan is just not my type;)
3. How does your ideal man look like?
Frankly speaking this question made me think a lot. I have no particular image in my head…I can open one secret to you: the first thing that I pay attention to are hands. Up to me they can say lots of interesting information about man..:)
4. What family values do you treasure?
Oh, the main treasure is my family…each member of it, all traditions, holidays, all the memories. We have nor family jewels neither mansion, but we have each other and it's mostly valuable to me

5. What or who is your life inspiration?
I can make a long list of people and things which are or were my inspiration. But I think that my main inspiration is life, everyday of living. Life gave me all my dearest and those wonderful things that are my inspiration. So life is my Pierian song

6. What is your main life goal?
You know that person without goals does not exist. I always have a goal, which I try to reach as soon as I can. What goal do I have now? If I'm here, so logically it is love and relation:) Also I want to be successful in career and I dream to see the ocean 😉
7. How to make you feel more special?
Men notice details very rarely. So I will feel myself special even when my man notice my new hair style or new skirt ;))
8. Which advise do you think was the best that you have obtained in your life?
I have life motto, the words of William W. Purkey. He said: "You've gotta dance like there's nobody watching, love like you'd never being hurt, sing like there's nobody listening, and live like it's heaven on earth." I think if you will enjoy your life everything will work out;))
9. What is your happiest memory?
It was when I was 11 and my mother presented me a huge doll, who could talk and there was a big house for her. I think the memories from childhood are brightest and everybody have it's own happy memory from childhood.
10. What is your #1 dream now?
There is an opinion that if you tell to somebody your dream it will never come true. So I will keep it in a secret and tell you when it happen 😉