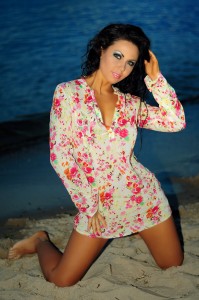 Ekaterina
Ukraine, Nikopol
Age: 30 years old
Star sign: Cancer
Photo Album: 6 photo
1. Why have you decided to search for love online?
I was always dreaming about a husband from abroad. Even don't know why! Just I've always imagine how I say "Honey!, "Sweetie", "My love" and not "Dorogoy", "Lubimiy" in the morning. I like to hear English speech and hope one day I will speak without mistakes:)
2. What is the difference between Ukrainian men and foreigners for you?
There are so many differences… Passion, care, admiration… As for me foreigners know how to treat a woman better that Ukrainian men and I'm the one who want to be treated !

I know that I will fall in love with my foreign husband every day more and more! I feel it with all my heart!
3. How does your ideal man look like?
He looks like a winner! In business, in sport, in life and for sure he should be a winner of my heart! I like strong men, who know what do they want from life and who get all they want! Only with a true winner I can feel safety!
4. What family values do you treasure?
Love and respect! Kids should respect their parents, man and woman should respect each other, without that happy family is impossible! I have a good example, my own family!
5. What or who is your life inspiration?
Music, dancing and books. I always find what I need in books I read, I feel happy when I listen to music and I feel completely perfect when I dance! All that give me inspiration to search for love and to live happy life!
6. What is your main life goal?
To be the best wife and mother! I think I know how to do it but I need a good man next to me for that!
7. How to make you feel more special?
To kiss me in the morning, to know what jam I like to eat with pancakes, to know my size of shoes and dresses etc. and to use all that to surprise me without any reason

All that small cute things making me feel more special!
8. Which advise do you think was the best that you have obtained in your life?
Do not listen to people, your heart is much more smart than their envy. If you follow your heart you'll always life YOUR life! What can be better?!
9. What is your happiest memory?
I think it's somewhere in future! With my man, kids, family…:) Want to see the happiest moments with my close people!
10. What is your #1 dream now?
My dream #1 is not to pass through my real love, that's why I'm here, that's why I'm opened for relations! I know that destiny have a good gift for me in her bag!