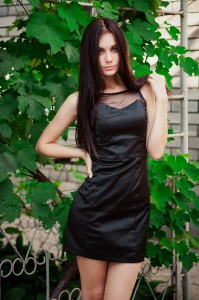 Diana
Ukraine, Mariupol
Age: 20 years old
Star sign: Cancer
Photo Album: 10 photo
1.What is the biggest goal you want to achieve in your life?
Maybe it sounds corny, but the main goal in my life to find my love and to create wonderful friendly family, make my future beloved the happiest man in the whole world and to have healthy beautiful children!
2.Are you a dreamy person? What is your most vivid dream?
There is a saying that dream is more powerful then reality… I am totally agree with it. We dream about our future, new feelings and emotions, and of course about material things, like house, car, good job etc. Our imagination and desire help us to achieve all we want in our life. So, if we will work hard and believe, our dreams surely will come true.
3.Do you have any bad habits? Do you know how to get rid of them?
My bad habits…I do not know, I am almost perfect)))ahahah))) Of course I am kidding, all we have some bad things in our character or behavior and I am not an exception. Sometimes I can threw the things around the apartment, I can be scattered sometimes, but as I said before, I am almost perfect lady)))
4.What are the most important things for you in this life?
These are my family, my friends, my calm and balanced condition, I hate quarrels and tantrums, and I try to be always in good mood and share my bright smile and positive emotions with my beloved close people.
5.What would you do to leave an impression on a person on your first date?
I know a lot of funny stories, love to laugh and I think I can cheer up any person))) So, I am sure on our first date my man will never feel bored or lonely) We will get a lot of pleasure and will have wonderful time together)))


6.If you have the opportunity to plan the vacation of your dream where and how would it be?
I think if I have such opportunity I will have the vacation, consisting of two parts. First of all I will go with my future beloved man, for example to Ibiza!!! Crazy holiday with bright nights, dancing, parties and active rest, and the second will be somewhere in the forest near the beautiful clear lake, where we spend the most wonderful and romantic vacation…mmmm, do you want to fall in love with me and to make this dream come true?)
7.Do you have something special you are proud of in your life?
Several years ago I have planted the tree near the country house of my parents. Now it is beautiful and luxuriant… I love it so much, I hope one day my children will grow up and will plant a lot of new once near my tree…Oh, so touching….
8.What is the most courageous thing you have ever done in your life?
When I was a small girl, I saved a boy who was drowning in the river…Really, when I think about that accident I have goose bumps on the skin! I jumped into the water and held him, till the adults helped us to get out on the shore…
9.If you have three wishes, what do would you wish for?
I have one big and unfortunately unfulfilled desire…I would very much like to be able to heal people…
10.Is there a movie that makes you cry (or laugh) no matter how many times you watch it?
There are a lot of movies that make me laugh or cry sometimes. But I prefer comedies) And my favorite is "The Hot Chick" with Rob Schneider ))) I adore this actor and all his film) The person who can make people laugh and happy have to be very kind interesting and talented person)