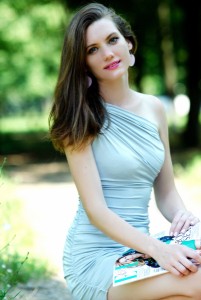 Happiness is the basis of all relations. If people are not happy with each other, they have no reason for keeping spending time together. In any way, our second half is the only person we can choose ourselves to be the member of our family, so happiness is important. Some women can feel nice just knowing that they have a man by their side. This attitude is the most typical among Slavic women as they are used to worshiping men for just their being, and having a constant man by their side is almost an achievement which can be envied by other women depending on different conditions of the man's state, like appearance, age, status, health , hobbies or sport decisions.. However, they almost don't know that men can make something pleasant for them, so you may show them all pleasure of being a tender woman who is being taken care of.
First of all, don't forget to cheer fer up from time to time. Of course, this is needed when something bad happens to her, but showing care in other situations will be also highly appreciated by her. She will feel that you are worried about her state and want her to feel great with your help.
Support her in all her beginnings, whether this is the desire to learn how to cook a new dish or to change a place of work. Support is another element of healthy relations which is vitally important to make your woman happy. However, be rational and if you think that some her decision is not too nice, try to explain her this and to be her wise teacher.
Don't forget to tell your darling half that you love her and happy to be by her side every minute. Women love with ears, everyone knows this, so use this peculiarity to make her feel herself desired and deeply loved.
Keep in mind things that are important for your lady and for your relations. For example, the day when she or you first wrote a letter to each other, the date of your first meeting, first kiss and so on. Slavic woman will be greatly surprised when you congratulate her with some sweet anniversary without reminding and warnings. Besides, this will be a nice occasion to present something pleasant to her.
Good humor is making relationship firmer than it can be. It cheers up and rises mood, it is even possible sometimes to solve problems or to prevent your woman from making them. Any quarrel can also be stopped with the help of a good healthy laughter. So, this is another way of supporting your lady and making her feel happier.
Apart from remembering important dates, find out everything what she likes. For example, what are her favorite flowers, which color she prefers, which meals or restaurants are the best for her, and also what she doesn't like or maybe can't accept due to different circumstances, as taking care of her health is also your responsibility.
So, if you have serious plans and are ready to discuss your mutual future with your lady, don't forget that you will also bring responsibility for your beloved woman and will have to take care of her physically and mentally, as well as she will towards you.