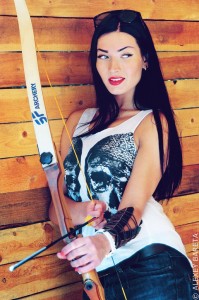 Autumn is coming. And the hunting season will be opened soon in Ukraine. Such an extreme kind of rest is for brave men who loves danger and adrenaline buzz. If you hate beaches and walks, if you prefer active and risky rest, you will definitely like autumn hunting in Ukraine!
The territory of Ukraine is extensive and various. The nature of the country is unique and beautiful. There are plains and foothills, mountains and rapid rivers, lakes and seas, forests and steppes at the territory of the Ukraine. So that you may meet here a lot of different birds and animals to hunt. For instance, at the South of Ukraine it is permissible to hunt for birds and mouflons, at the North one may hunt for roe deer and wolves, in the midland one can meet elks, deer, foxes, hares and, of course, wild boars. Also it is permissible to hunt for black games, partridges, quails, snipes, pheasants, geese, ducks, woodcocks and other birds in Ukraine.
The hunting season for birds begins in the second half of August. And the hunting season for the most of the animals begins in September. That's why autumn is the best time for hunting in Ukraine.
There are a lot of hunting grounds and hunting clubs in Ukraine so that you can apply to one of them. Hunting clubs are experienced enough to arrange your rest successfully. Practiced hunters will be glad to help you with advice and will give a hand if needed. They will provide you specially trained hunting dogs and high-quality equipment. Such an assistance will be not only a pledge of your successful hunting but also a pledge of your safe activity within the bounds of law.
After such an eventful day you may have a good rest in a bath-house with other hunters. And this is a time for great stories! Experienced hunters can tell you many fascinating stories about dangerous adventures and unusual happenings. Tasty dishes and rest in front of the fireplace will be a great coronation of this wonderful day.
And if your hunting wasn't successful enough, just go to Step2Love and hunt for one of these beautiful Slavic ladies! And the day when you'll catch your little beautiful bird will become the most successful day in your life!