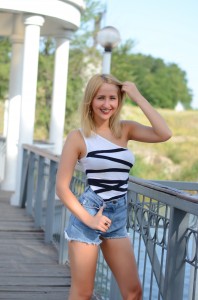 Anastasiya
Ukraine, Zaporozhye
Age: 20 years old
Star sign: Scorpio
Photo Album: 11 photo
View Anastasiya`s  Full Profile
1. What would be the most romantic thing a man can do for his lady?
That's sad when men forget about romance which we need so much.
There so many pretty easy things which you can do for your woman to
bring romance. But as for me the most romantic thing which man can do
is to stay beside his woman all her life and every morning kiss her
and say: I love you! This is like the highest level of romance I
believe.
2. Do you like guys who know how to cook?
That is wonderful quality of a perfect man! There is nothing better
than to see your man cooking special dinner for you or just do cooking
together! I can also add making romantic dinners with
candles. Do not think this is banal! All women love it and I am not an
exception. By the way my favorite dish which is easy to cook are
pancakes!
3. What is the most useless purchase you've ever spent money on?
That's funny but I am sure that every girl has useless shoes with
incredibly high heels which she bought for mad money and have never
wore them! Because it is impossible to walk on them! But they were so
beautiful! What woman can reject such a chance to spend her money?
4. How long do you have to be dating a man to introduce him to your family?
Family is very important for me. So first I would like to be sure
that a man is serious about me and our relations. So, man should not
worry. I will not invite him to see my parents after the first our
meeting.

5. Do you still watch cartoons? What's your favorite?
All my childhood I enjoyed cartoons! And though I am not a child any
more – at least when you look at me – inside me still there is a
little girl! She likes to take candies and watches cartoons in bed.
The best I think is Tom and Jerry. =))
6.  What is the most unusual compliment you've ever got in your life?
Compliments are wonderful! We, girls, enjoy them very much! So, say
them more often please! But once one man said to me that I am terribly
beautiful, such beautiful that he even scary to approach to me! I
think this was quite too much. Be more brave than that guy!
7.What kind of profession you dreamed about when you was a child?
I always dreamed to be a doctor! I came to the hospital where mom
worked and was wondered about white coats and thought how would be
cool when I will make injections to people but not doctors to me! But
in the course of time I changed my mind about it.
8.  What would you like to change about your appearance?
Mom said I am perfect, but I think after 40 I will need to pull up
and pick up some parts of my body! This is a joke of course. To be
serious, I believe that we should accept ourselves as we are.
Otherwise there will be no harmony in our life!
9. Can you describe the perfect day for you?
A perfect day is when you do everything what you want and don't
care about time, no rush, no business, no troubles. Perfect day is the
day which you spend together with your beloved one and you share
everything – movies, shopping, meals, walks, fun…. This is the most
perfect day you can have!
10. How would  you affectionately call your beloved man? 
There are so many "usual" affectionate names and of course they
are nice. Words like "honey", "bunny", "darling", "sweet" all of them
make our relations closer. But for my beloved one I would invent
something really unusual. And who knows what will it be?