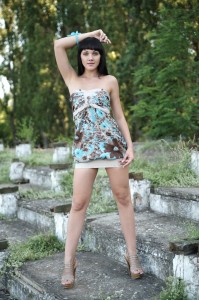 Mariya
Ukraine, Nikolaev
Age: 23 years old
Star sign: Libra
Photo Album: 13 photo
View Mariya`s  Full Profile1. If someone were to make a movie about your life, who would you hope would play you?
I think I want Angelina Jolie starring…) She is very subtle, refined woman, I think she would be able to convey my true essence in this movie.
2. Do you think people can control their own destiny?
I think that every person has the right to choose which way to go, and how they cope with difficulties and what they do during this road, that is the destiny.
3. If you could learn one random skill, what would you learn?
If I had the chance I would like to learn  drawing. it is wonderful to carry the beauty in this world and capture it on canvas…
4. What's the most serious decision you've ever made in your life?
Yes, I made a serious decisions. Whether it's a spontaneous trip or the color of my nail polish)
5. What's your earliest memory?
My earliest memories are from my childhood. Every summer I vacationed with my grandmother and it was wonderful.
6. Do you like to plan things out in detail or be spontaneous?
It all depends on the situation. There were moments of spontaneous decisions and well-considered action. But I prefer to think about all the details and to plan.
7. What do you do for fun?
Chat with friends, watching funny videos, music, reading books, all these entertain me and make me feel joy and relax.
8. What accomplishment are you most proud of?
I am very proud of my work in the biggest circus in the world. It was an unforgettable moment for me in my life.
9. If you were going to write a book, what would you call it and what would it be about?
If I have an opportunity, I would write a book about love, where there is no place of lies and betrayal.I would call it "The eternal love"
10. How do you feel right now? What are you thinking about?
Now it is autumn and rain and I feel lonely. I think and dream about a friend with whom I would be interested to talk about everything is the world…