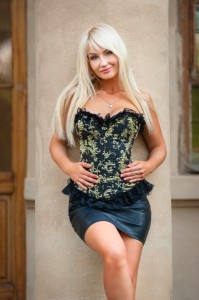 Feminine, long-legged blonds or brunettes or red-haired goddesses are the object of many eastern men's dreams and fantasies.They always follow the fashion and take care of their appearance. Only in this country you can see the lady in skirt and high heels even in winter in spite of the cold weather and icy conditions. Ukrainian women should always be beautiful!
Most women in Ukraine are looking for a traditional relationship pattern, where dating leads to an exclusive relationship and, eventually, to marriage with expectations of faithfulness. Most women also want to create a friendly family and to have children.
Ukrainian women probably identify less with their careers and usually do not feel an imperative need to be independent from men. On average they are more comfortable with typically female roles and do not need to compete successfully with men or even outdo them to feel empowered.
Ukrainian brides are caring, loving and have so a lot in their hearts to share with their future beloved man, so if you are mutually in love with this lady, you will never feel lonely or miserable.
These ladies are perfect lovers, they always want to surprise their man, they are kind and tender and they are wonderful house-wives and good cooks.
So, if you decided to find your dream lady in Ukraine, do not hesitate and put all doubts aside! Don't waste time as it's enough to be lonely! You deserve to be loved and happy with your future beloved Ukrainian bride!
And Step2love is the best place to find your true love!