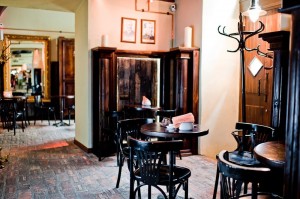 If you are a demanding coffee lover, you will definitely like this place. Old traditions and well-tried coffee recipes, refined ambiance and witty staff, unique coffee souvenirs and book novelties, interesting visitors and, of course, unsurpassed coffee wait for you here, in Lviv Coffee Manufacture. Visit it once and you will fall in love with this unique Lviv cafe!Amazing Ukrainian city Lviv is not only a place to see, this is also a place to taste! Just Lviv it, as they say here. So if you are already a little bit tired with different kinds of historical places and other sights of the city, it's the right time for a cup of coffee. Stop in Lviv Coffee Manufacture and choose your perfect coffee for this time. Here you may taste morning coffee for a great beginning of the day or make a midday coffee-pause, have a cup of coffee with brandy to end a long day or pay a special attention to the special coffee of Yuri Frants Kulchytsky (highly recommended for coffee connoisseurs). If you are perplexed by various kinds of coffee and cocktails in menu, one of the waiters will help you to make the best choice at the moment and amuse you with witty remarks and interesting facts.
Have a good rest and take pleasure in a cup of wonderful coffee whose perfect taste is a merit of local… miners! As the cafe staff will explain you, Lviv coffee has such a particular taste thanks to the fact that it is extracted from the Lviv Coffee Mine, the only Coffee Mine in the world! The local miners will invite you to this underground place and you will see the bewitching process of coffee mining and will get a chance to taste "soldered coffee" which is prepared by a secret recipe.
The unique peculiarity of Lviv Coffee Manufacture is that you can discover and explore its features day by day like a good book. Make your acquaintance with Lviv in this extraordinary place and let it conquer your heart with the inimitable local charm and charisma.
Make your day unforgettable with the cup of excellent coffee from a Lviv Coffee Mine!