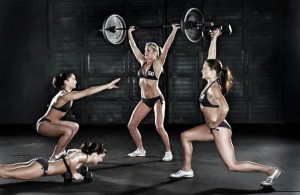 It is an extreme system of general physical training, based on alternating, sometimes randomly, basic movements of different sports performed at high intensity.The CrossFit program is designed for universal scalability making it the perfect application for any committed individual regardless of experience. Coaches and experts have used their same routines for elderly individuals with heart disease and cage fighters one month out from televised bouts.
There are more then 10000 gyms all over the world with CrossFit practices but most part of them are located in America.
CrossFit – a great worldwide community.  Every day hundreds of new training programs, articles on nutrition, video on exercise technique and much, much more are appear in the network! It is not necessary now for you to go to the gym, with CrossFit you can  train at home, in the campaign, in the country, on vacation – anywhere – adaptation options under any load case and a minimum of equipment! It is so easy! CrossFit is good that everyone who wants to train, able to train anywhere and with any set of equipment.
At this year's 2014 Reebok CrossFit Games Rich Froning, the barrel-chested fitness phenomenon, won the national series for the fourth year running. This wasn't a shocker to any fan of the high-intensity sport. Despite slow starts on the initial events this year, Froning dominated the latter half of the competition with his combination of power, speed and seemingly endless capacity to endure pain.
6 Ways to Get Fit and Stay That Way from Rich Froning
1. Have a go-to bodyweight routine.
A bodyweight workout you can automatically do on a travel day or when you're stuck inside is essential, Froning says.
Here's his: 5 rounds of 20 reps each of push-ups, squats, burpees, pull-ups and pistols (similar to a one-legged squat, where you try to sink down as low as possible)
2. Find friends to suffer with you.
Froning loathes running, so to psych up for it, "I make people do it with me, so I'm not suffering by myself. And that helps me, because the competitive aspect comes out. I'm like, 'I don't want to get beat,' even though it sucks."
3. Don't put a ceiling on what you can do.
Think there's a limit to how fast your mile time can be? The weight you can squat? Froning calls bullshit. In CrossFit specifically, where sprint times have crept down and the amount of weight up, "I don't think we'll see a plateau or a limit. Your body's an amazing machine and it's created to do stuff. See what you can get out of it."
4. Redirect your attention when you want to give in.
For "The Fittest Man on Earth," that means not thinking of himself when he's staring at a loaded bar he doesn't want to pick up. "My gift from God has been my talent, my genetics, and the people around me. And that motivates me if I'm struggling, being able to shown them what I can do — my wife, my daughter."
5. When you can, make it fun.
"I came up to New York for a photo shoot, and got done late. A few of us were here, and wanted to get a workout in, so we ran from our hotel to Central Park, and every time we came to a stop light, one of us would call out a movement — squats, push-ups, pull-ups on scaffolding — and we'd do that until the light turned. It was a really good time, actually. And, you know, you get some sightseeing and exercise in."
6. Skip the steroids — you don't need them to win.
Froning says he doesn't need performance enhancing drugs to win the CrossFit Games. "I don't take them. I work my butt off. And I think people who accuse other people of using … well they could be jealous, or just lazy. They can't imagine doing the work that it takes. We're also tested regularly too. People say, 'Oh, you can fake a test easily,' but I don't know how to do it, so it can't be that easy."
So,dear readers! Stay healthy, fit and beautiful, become stronger and more confident with Crossfit! Enjoy the video of Crossfit competition in Ukraine