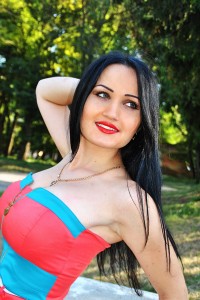 Ekaterina
Ukraine, Odessa
Age: 20 years old
Star sign: Pisces
Photo Album: 15 photo
1. If someone were to make a movie about your life, who would you hope would play you?
A movie about me – it already sounds great))
I've always loved the actress Marilyn Monroe, maybe it's primitive, but I would like her  starred in the title role, and even hair color will not prevent her to cope with this task!) Think of her movie "Some Like It Hot" and you'll understand why I choose her.
2. Do you think people can control their own destiny?
Each person is given a chance to live life happily, but not everyone can control it. This may be due to various factors: a person can be born in a poor or wealthy family and of course everyone has different capabilities. But everyone can reach heights of their own and at the precise moment and to control the destiny.
It's really difficult question, because every culture has its own values, their concepts of life and their barriers that not everyone is given the opportunity to overcome.
3. If you could learn one random skill, what would you learn?
It would be a skill quickly learn languages of the other countries. But unfortunately, this skill gives me hard, but I would have chosen this. I have a lot of desire, but few opportunities. So I am used to work hard and learn all new in my life.
4. What's the most serious decision you've ever made in your life?
Will probably be strong if I say that it is the choice of university, that I went studying in. But this was really hard and there was a lot of pressure from parents. But now I'm glad that I have listened to the advice and I hope that soon I will become a successful lawyer.
5. What's your earliest memory?
Now I remember kindergarten when I went there, I remember the swing, remember that carefree time. But also when I ride on a swing – and then have fallen…Until now, the scar on my leg does not allow me to forget about that time. I was probably 5 years.

6. Do you like to plan things out in detail or be spontaneous?
As for my working day – I plan almost everything in details, but of course I love some unexpected, spontaneous things)
This may be a meeting with an old friend, it may be a cup of coffee and delicious cakes with mates after study, it may be sponta
neous purchases. It's always fun. So, I will choose a middle ground.
7. What do you do for fun?
Сan this be called indecent things?))) Actually, I'm kidding. If I'm home alone, I turn on loud music, dancing and singing, for this I use the TV remote or a comb, I think everyone did the same in childhood)) I'm starting to disassemble the old boxes with my little past life, I re-read the note from school, my declaration of love to a guy. At that moment I had nostalgia… Of course going out with friends, karaoke songs, I do not rule out these fun, but I like to spend my time more useful to have an important memories of the past.
8. What accomplishment are you most proud of?
Hmm, interesting question!
I am certainly proud of the fact that in any situation I am always stay myself. My biggest pride are my girlfriends! They are really at this stage of my life the most important thing for me. They are my support that I appreciate. Of course I want to find that man, whom I will be proud of every day!
9. If you were going to write a book, what would you call it and what would it be about?
Books … I love to read different books. You know, I even once asked this question to myself, but still can not find an answer.
Maybe it will be historical or fantasy, but the name we will discuss later, I protectedby copyright my future book;))
10. How do you feel right now? What are you thinking about?
Ha, right now I am thinking about the reply on the last question in the interview and that these issues are really interested me.
And also, I'm late to the gym, I want to go to the cinema. In Odessa today's cold and I want summer. And I want a dog!)))