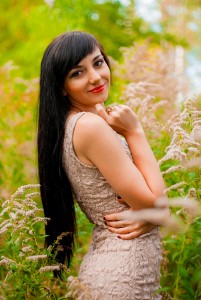 Yuliya
Ukraine, Cherkassy
Age: 24 years old
Star sign: Pisces
Photo Album: 18 photo
1. What upsets you the most in a relationship and what makes you the happiest?
It is easy to answer this question =) I do not like lie and
selfishness in relations… And it is very easy to make me happy –
just be honest, attentive and that is all I need =)
2. Finish the sentence: "I am the best because…."
Because this is ME =))) I like to be unique and honest to myself first
of all… I like to get to know new things and I always know what i want
in my life.
3. Are you a sweet-tooth lady?) What are your favorite baking or candies?
Oh, yes!!! I am a very sweet-tooth lady =))) Hahahaha =)) I can't live
without candies and cakes =))) Thanks God, i have a good genetic code
from my parents and i will never become fat =) LOL
4. What last made you laugh?
Previous question =))) It really made me smile =) I think that i have
a good sense of humor and i like laught a lot =)
5. Do you play any musical instruments? If yes, which is it, if not,
which would you like to learn to play on?
No i did not play any musical instruments… But i have a dream to
play on the guitar. I think that this dream will come true soon =)
6. Which song can describe your life?
Pharell Williams – Happy. I like this song very much and this is what
i feel now – i am happy because i am alive and i have many dreams in
my head and many plans for my future…
7. How could you calm yourself when you're nervous?
When i am nervous – i scratch polish from my nails =))) I know that is
my bad habit, but i am not perfect =) LOL
8. What is your signature dish that you cook best?
Hm… I like to cook and i have a lot of favorite dishes… But the
best – traditional Ukrainian borsch =)))
9. What is the most useful advice you have been given in this life?
And who was the adviser?
It was my mom and her advise was – Do not worry, be happy =))))
10.Do you believe in horoscopes and zodiac signs compatibility?
No, i do not believe in it… I am sure that just me can know who is
good for me or who is not…