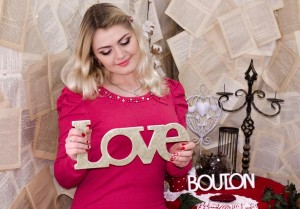 St. Valentine's Day has become really popular all over the world, and in all its corners people are ready to spend romantic time together this day and bring pleasant gifts to each other to show how much love they have in their hearts. But how may you spend this thrilling holiday with your partner?
Begin your lady's day with a bouquet of roses. The more – the better, as your love to her is astonishing! And all women love to receive flowers. If it happened so that she doesn't love roses, present her what she adores to create a wonderful atmosphere of a holiday.
Do you remember how you met first? What did you feel, where did you go together and what you were doing? Or maybe your first real date? It was so thrilling and romantic, so if you decide to repeat it once more, you will get remarkable feeling of love to each other. Or you may think about organizing something completely new but very romantic. A dinner on a roof under bright stars with lots of candles around, for example, – what can be sweeter for your lady?
In some countries, in Japan in particular, there is a tradition to present homemade sweets to a person whom you love on St. Valentine's Day. Nowadays, there are all means and recipes on the web available for you, so you will surely manage to please your beloved half with a chocolate made by yourself. She will be absolutely surprised to receive such gift! Or if you still can't cope with it, you can always purchase a set of sweets for her – ladies love chocolate in any form!
Finally, the most serious way to celebrate your love on St. Valentine's Day is to make a step which will connect you for your whole life. For this, you will have to get a ring and to organize romantic atmosphere so that your lady could remember this occasion for the rest of her life, and when everything is ready – make her a proposal. Lots of couples decide to unite their life this day and to live happily. She will surely be absolutely happy if you present her your heart and your feelings this day!
Despite the fact that lots of people claim that love should be shown every single day and there is no need in a particular holiday, why not to make something unusual and astonishing this day and to join all loving couples on Earth praising the gift of mutual love and understanding?