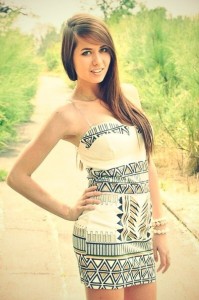 Elena
Ukraine, Mariupol
Age: 22 years old
Star sign: Cancer
Photo Album: 18 photo(11 private pic.)
1. How could you calm yourself when you're nervous?
Oh…I like to eat a lot)) Sure I love to be in a good shape always, so I will go jogging on the stadium then will prepare something delicious for example – lasagna. And eat a little)))
2. Finish the sentence: "I am the best because…."
I am cute smart and I will make you happy, the rest you will tell me soon by yourself….)
3.  Are you a sweet-tooth lady?) What are your favorite baking or candies?
Muffins Muffins Muffins))) I think I am looking myself like a sweet delicious cake)) Do you agree???)))
Oh yesterday I was at my work and one of my girl-friends accidentally closed me on the balcony…I was so happy I had a phone with me so I can call her and asked for help)))
5. Do you play any musical instruments? If yes, which is it, if not, which would you like to learn to play on? 
No pity but I do not play any musical instrument but I if will have such the opportunity I will learn play flute))) Love this melodies…
6. Which song can describe your life?
Pretty woman – Roy Orbison or even Sex bomb Tom Jones))) you will choose))))
7.  What upsets you the most in a relationship and what makes you the happiest?
In relations I value trust to each other the most, faithfulness and support in any situation, I hate quarrels and scandals. I believe that any problem can be solved peacefully.
8. What is your signature dish that you cook best?
Real Italian lasagna and hodgepodge))) Do you love it? I will prepare for you)))
9. What is the most useful advice you have been given in this life? And who was the adviser?
Do not pay much attention to other people's opinions. My mommy told me this long time ago.
10.Do you believe in horoscopes and zodiac signs compatibility?
This is partly true, much the same, especially lately))) I promise to find a prince in a short time, it can you?)