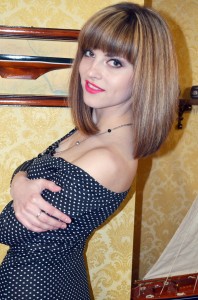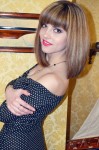 Yana
Ukraine, Nikolaev
Age: 23 years old
Star sign: Leo
Photo Album: 14 photo
1. If you could travel the world, which are the five places you'd never miss?
If I have such an opportunity I would like to visit Paris and to see The Eiffel Tower, and to fulfill the childhood dream and to visit Disneyland! And I would like to see Croatia they say that there is so beautiful sea coast there I want to see and to feel this beauty by myself…And I will be so glad if I could visit one day the Cathedral of the Assumption of the Virgin Mariya, which is located in Croatia. And I was said that there is in the nature miracle such as hot springs so I would love to see these wonders and plunged into them)
2. Do you have a childhood memory that makes you smile every time you think of it?
What I remember from my childhood…We had no light in winter, and it was often, I and my younger brother made the special concerts for our mommy and sing songs about her)) It was so cute and funny…I always remind this with a big smile)))
3. Who do you speak to when you're having a hard time in love?
If I feel myself not good or if I have disappointments in love I always share all these with my mom, not because I have no friends, but because she will support me and understand me in any case.
4. If you were given the day off from all your everyday responsibilities , how would you spend it?
I like to sleep so so much))) Maybe it sounds funny and not so romantic but it's true))) I think I will sleep the half of day and then begin my favorite art – embroidery paintings)))
5. Do you have any phobias?
Most of all I afraid of darkness. I am always afraid when it's no light in my apartment or to walk alone at night…
6. What is your favorite TV show?
My favorite TV show – Ukraine has talent, I am very proud of our talented Ukrainians, it's a pity I have no any special skills, but I am a very good person)))
7. What is the craziest thing you have ever done?
Well, my entire life is not very long, I probably did not do such a mad but would like to jump with a parachute) I think it's a great crazy action))
8. Something you wish you were better at?…
I think I want to be become always better and better with my future beloved man. To be a better wife for him and a better lover, to cook the most delicious breakfasts and dinners and certainly look at 100% for my man always:)
9. Do you believe that there is only one love for everyone?
I really would like to believe in eternal true love with one person for all life…Looking at people nowadays you understand that it is not really achievable…But let me be naive but I will think about this and trust in my dream and will be happy one day with my the one and only…And maybe it will be you?…)
10. Do you like experimenting with new things in life?
I love experiments in everything, I like trying something new, discover new abilities in myself, to discover new cultures and to meet new people)