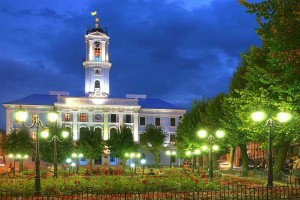 Spring – it's time to plunge into the atmosphere of magic and happiness with your beloved Ukrainian lady. To get unforgettable emotions and to move back to a hundred years ago, to the past, is very simple – visit the elegant European city Chernivtsi, rightly bearing the title of Ukrainian Paris, inhale the fragrance of spring and enjoy the picturesque views of the blossoming Tulips Valley…
Chernivtsi, and sometime earlier – small Paris. Yes, this was a name of the small and beautiful town. Chernivtsi is located in the picturesque region of Bukovina, and is considered to be its center.
The city is located close to the popular and beautiful Carpathian mountains and close to the borders of Romania and Moldova. Therefore, Chernivtsi became not only an economic center but also cultural.
Here there is a spirit of different times and peoples. On this small piece of land there lived people of different nationalities – Germans, Poles, Ukrainians, Romanians, Jews, Belarusians, Moldovans and Russians. Each nation brought to the development of culture and architecture of the city something special. And the most amazing thing – all the people in Chernivtsi lived in peace and friendship, regardless of nationality.
Architecture of Chernivtsi is one of the most beautiful in Ukraine. Indeed, being in the old city center, you'd think as if you've found yourself on the streets of Vienna or Paris. As each house in the old center of Chernivtsi is unique.
The pearl of the city is an architectural ensemble of the University of Chernivtsi, the Residence of Bukovinian and Dalmatian Metropolitans (1864-1882), which is included in the UNESCO World Heritage List. This architectural structure not only conquers everyone with its beauty, but also surprises with its originality and uniqueness. As well as many other "highlights" of Chernivtsi.
It will also be interesting to admire the Town Hall (1848), Theater (1905), to which the "Avenue of stars" leads. It is dedicated to Masters of Arts of Bukovina… Especially pay attention to bright and having no analogues in the world masterpieces of architecture: "Drunk" Church (1939) and the fabulous Ship House (19th century).
All this – only a small part of the big city and its rich history. Chernivtsi keeps a lot of secrets and mysteries, because this city is more than six hundred years old!
But outside the city you will find no less enjoyable surprises. Near Chernivtsi there is "Flower Paradise". You will be able to enjoy this unbelievable view with your beloved woman in the period of tulips flowering. A local entrepreneur has planted more than 60 species of tulips on the territory of more than 1 hectare. In spring meadow becomes a rainbow – tulips from white and orange colors to dark red, yellow, purple delight the eye.
So if you're going to visit Ukraine this spring and relax with your charming lady in Chernivtsi, you just have to plunge into a beautiful ancient world of this wonderful city. But do not worry, that you will find yourself in the Middle Ages without any facilities and other entertainment – today there are many restaurants and entertainment venues where you can have a good time with your second half.