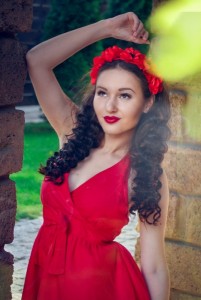 So, this finally happened! You met each other, you hugged and told all words of love in loving eyes of your gorgeous Slavic woman, but what next? Of course a date! A real date with walking or visiting a restaurant or theater or any place you or she would like to go to! And of course you will have to talk to each other. You may not know, but here inconveniences may occur.
As you have communicated via Internet, you always had time to write a letter, and had even several days to gather all events that have happened in your lie, but now you don't have these long periods of time for thinking over your text or message. And what will you talk about on your first date?
The best topic was, is and will always be is hobby. Everyone has it or would like to have. You will not notice how hours will fly by with descriptions of your favorite ways of spending free time, as Ukrainian ladies truly can astonish with variety of interests and abilities which women from other countries may consider impossible.
Ask more about her. Women love to talk, so if you can't get a topic, allow her choosing it. There are surely many things she would like to tell you, as letters can't transfer all emotions she has accumulated in her heart towards you!
Still don't have anything in your mind? Look around! Everything is around you. See a shop? There surely was some funny story about how you have found your favorite t-shirt. A cute dog is passing by? And does your lady have a pet? Here is a topic for you, and those who keep pets at home have hours of stories about them and can tell them continuously!
Of course, don't forget to tell about yourself, about how you live in your country, even about different traditions you have. You will not believe how much they differ from Slavic ones! Your lady will be happy to find out something new about you!
So, the main thing about communication on the first real date is to be natural. Words will come up themselves, you don't need to think over each question. Remember that those who are in love can feel comfortable even staying silent and talking only with their hearts!